Facebook is introducing new privacy controls to each of its 2 billion users as part of compliance with the EU's General Data Protection Regulation (GDPR) that will come into effect on May 25th.
Facebook will ask every user, regardless of where they live, to review their privacy choices, from the information they add to their profile to how Facebook uses their data to target ads. The company is also announcing the return of facial recognition to Europe and Canada after courts ruled seven years ago that Facebook's photo-tagging system collected biometric data without proper user consent.
The new controls will roll out to European users first, starting this week, and will expand to all users globally afterward, Facebook said in a blog post. CEO Mark Zuckerberg had kind-of-sort-of indicated that Facebook would extend its European data protection controls globally.
In compliance with GDPR, Facebook will present users with the option to accept or manage their relevant data settings. The social networking service will ask users whether or not they want to continue sharing political, religious, and relationship information in their profile, for example, and make deleting profile information easier.
Users in the EU will begin to see the permission screens this week, while users in the rest of the world will be asked at a later, unspecified date. Under GDPR rules, companies are subject to penalties if they use or collect personal information without consent. European users will also see contact details for Facebook's Data Protection Officer, which is a requirement under GDPR.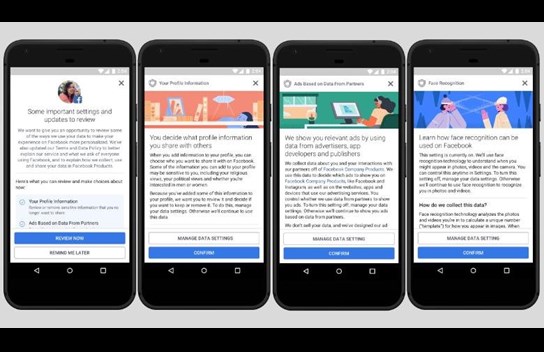 Facebook also said it will ask users to review and choose whether or not they want Facebook to use data from partners to show ads (partners like websites and apps that use Like buttons). "Facebook is an advertising-supported service," said Facebook deputy chief privacy officer Rob Sherman at a press briefing. "All ads on Facebook are targeted to some extent, and that's true for offline advertising, as well."