Nokia is ready to be a consumer brand again. Of course, to many, it never stopped. Even as its phone business changed hands to Microsoft and then to HMD Global, the Nokia brand never really died. So much so that HMD Global's latest line of phones still bear the Nokia name, despite having nothing to do with Nokia itself. But it was its purchase of Withings that signified Nokia's eventual return to the consumer market. Now, that time is here. As of today, the Withings name will be replaced by Nokia. And, to go along with this transition, Nokia is announcing three new products: A BMI WiFi scale, a soft-cuff blood pressure monitor and a whole new app.
Let's start with that scale. It's called Nokia Body and is a new addition to the existing line of digital Withings scales, which now go under different names: Withings Body is now Nokia Body Plus (it measures body fat) while Withings Body Cardio is now Nokia Body Cardio (it measures body fat in addition to cardiovascular health). While the Body Cardio and the Body Plus cost more than $100 each, the new Nokia Body will retail for only $59.95 (£55), making it the cheapest scale in Nokia's lineup. That's because the Body only tracks your weight and nothing else. It does offer BMI (body mass index) insights and of course it still has WiFi and Bluetooth so you can sync your data easily with the app, but it doesn't have the sensors of the higher-end products. Still, at under $60, that's certainly one of the most affordable smart scales out there, and could prove to be a great entry-level product.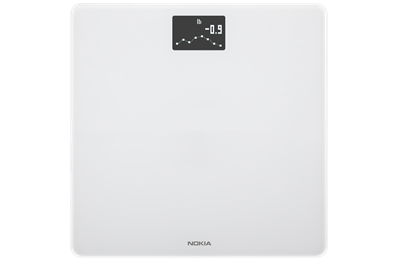 Next is the Nokia BPM+, which is a much softer and more portable version of Withings existing blood pressure monitor. While the older product has a hard plastic curve that you have to wrap around your arm, the new BPM+ has a cuff made of softer material. This not only makes it more comfortable to wear, it also rolls up into a more compact shape, allowing you to stash the BPM+ in your purse or bag for on-the-go monitoring. According to Nokia, the BPM+ measures systolic and diastolic blood pressure and heart rate, and is both FDA-cleared and medical CE approved. The BPM+ will be available for $129.95 (£115).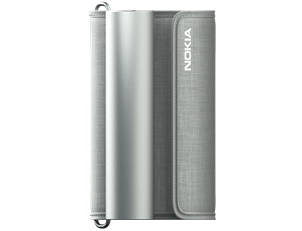 The first thing you'll notice is that the app has a whole new minimalist user interface that is simpler and easier to use. Gone is the traditional menu system; instead, you navigate the app through five tabs at the bottom. You can view your timeline to see how you've progressed, your latest synced data, a list of your different devices and your personal Nokia profile. But the most important improvement to the app is the addition of new wellness programs that are tailored to your personal health goals.
At launch, the new Health Mate app will ship with five such programs: Sleep Smarter, Better Body, Pregnancy Tracker, Healthier Heart and the Leaderboard. According to Nokia, these programs were developed by recognized health professionals to help you sleep better, manage weight and fat mass, control blood pressure, control weight gain during pregnancy and simply get more active. Most of the programs last eight weeks, while others, like the pregnancy one for example, can take up to nine months.
With the addition of coaching programs, Nokia hopes to provide actionable insights, which has so far been the missing link with most activity tracking apps. For example, if you're having trouble losing weight, the coach might ask you to start a food diary. Or it might give you a specific task that week, like taking the staircase instead of the elevator. "This helps users reach their very specific goals," says Cedric Hutchings, Nokia's VP of Digital Health, who also happens to be the former Withings CEO.
"Some people draw value from the feedback loop," he says, referring to activities like step-counting and calorie-counting. "But we wanted to ask, what's the next step?" He hopes that by adding these coaching programs, Nokia's health products will reach a far wider audience than just techies who are obsessed with fitness tracking. "We're building technology that fulfills human needs, not just for geeks or the health-obsessed," he says.
It all adds up to a very important time for Nokia as it pivots into the digital health realm. Indeed, starting today, Withings as a brand is essentially gone. Withings.com will redirect to Nokia.com, and Withings products are now Nokia products. Every consumer-facing Withings touch point in the world will now have the Nokia name. The lone exception appears to be the Withings Aura sleep tracker, which is getting discontinued.