Smartphones are supposed to improve every year: they should be faster, able to take better pictures, and have a battery that lasts longer. But Motorola's Moto Z2 Force is evidence that this isn't always the case. It makes some modest advancements, but the bad decisions and missteps that led to this $720 end product are too much for those advancements to overcome. Almost immediately, the Moto Z2 Force's unveiling last month left some longtime Motorola fans feeling apathetic and concerned that Lenovo is fumbling the brand that once let people customize the entire color scheme of their smartphone. What's with the much smaller battery? How can they possibly justify that price?
Such doom and gloom is perhaps overly pessimistic. Under Lenovo, Motorola has still been producing quality phones and standouts like last year's Moto Z Play. And you could strongly argue that there's no company making better budget and midrange options than the Moto E4 and G5 Plus, respectively. But if you were to examine the Z2 Force alone in a vacuum, you'd be rather alarmed about where Lenovo is taking things — and for good reason. The Z2 Force is coming to every major US carrier this month, shedding the Verizon exclusivity of last year's model, but it's a hard phone to recommend no matter what carrier you're with. Motorola has made it faster and added a dual-lens camera, but the battery has been shrunken down just for the sake of thinness and, in all likelihood, with the goal of selling more Moto Mods.
ast year, Lenovo introduced the concept of those Moto Mods — modular accessories like a speaker and battery packs that latch onto the back of the Moto Z family — as the line's distinguishing feature and unique selling point. In doing so, the company also promised to maintain compatibility with future generations of phone hardware. That pledge was good for customers, but might ultimately prove a mistake. With its feet now firmly planted in the sand, and as competitors run laps around Motorola in design, we've been given the Z2 Force as the new 2017 flagship. Unfortunately, it might also be the worst Moto Z yet.
Like the original Moto Z Force, the big selling point of this phone is that it's got a shatterproof display. Motorola promises that the 5.5-inch Quad HD AMOLED screen won't crack or break from the everyday drops that spell certain doom for other smartphones. The secret to all this is that the display is, well, plastic. Several layers of plastic. It makes plasticky sounds when you press near the fingerprint reader in some spots, which is rather annoying to see from a phone in this price category. And the topmost layer is very prone to scratches. Exceedingly so.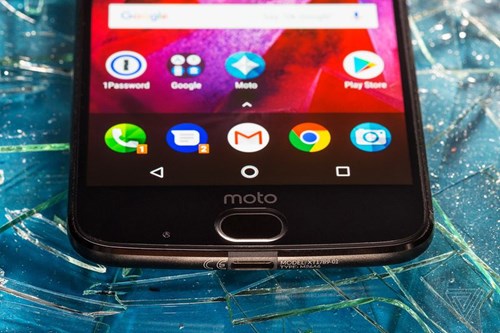 I've only had this review unit for a few days, but it's already starting to pick up marks from living in my pocket. And I'm careful about keeping my phone and keys separated, mind you. Android Police found that it's even more vulnerable to scratches than last year's Moto Z Force. I can't imagine it holding up too well over the course of a few months or a year. At least with the old Moto Z Force, Motorola let customers replace that top layer themselves for around 30 bucks. But that's no longer an option because the top layer is now fused to the rest of it; you can either use a tempered glass screen protector on a plastic screen — Motorola actually encourages this, a spokesperson told me — or get a warranty replacement if the scratches get to be too much. Motorola guarantees the screen against shatters for four years. The display's overall look is very bezel-heavy and won't turn heads in the same way that Samsung's Galaxy S8, the upcoming Note 8, or LG's G6 can. Even Google looks poised to eclipse Motorola's design with the next Pixel. Like HTC's U11, the front of Moto's phone is looking a little dated at this point.
On the upside, the Z2 Force is definitely tough; I dropped it onto the pavement when taking off the latest 360-degree camera Moto Mod, and it came away with just a few nicks thanks to the upgraded series 7,000 aluminum. But water is a different story. There's a nanocoating applied to the phone that should keep the Z2 Force safe in the rain or from a spill, but you can't submerge it, so it's not protected to the same extent as the Galaxy S8, HTC U11, or iPhone 7. The screen doesn't break, but a pool or your toilet can still kill this phone.
It also lacks a headphone jack, which is aggravating when you realize that while yes, the Z2 Force is thinner than last year's model, it's a hair thicker than the recent Moto Z2 Play. That phone includes a headphone jack while also having a larger battery inside. The best explanation I can come up with is that Motorola went without the headphone jack because the Moto Z and Moto Z Force never had one last time.
t'd be hard to tell the Z2 Play and Z2 Force apart from just looking at them if not for the dual-lens camera on the back of the latter. Color options also differ, and the murdered out black Verizon unit I had for review accumulated fingerprints and smudges almost instantly. It also can be hard to confidently hold onto at times if finger grease builds up. That would be less of a problem had Motorola included a Style Shell mod in the box as it has done with other phones in the Z line. The Style Shells are a simple way of improving grip, covering up the Moto Mods connector, and mitigating that camera bump. But the Z2 Force is the first Moto Z that I've seen ship without a bundled style shell. You're not going to have a Moto Mod attached all the time, and when you don't, the odds of dropping and dinging up that screen get much higher.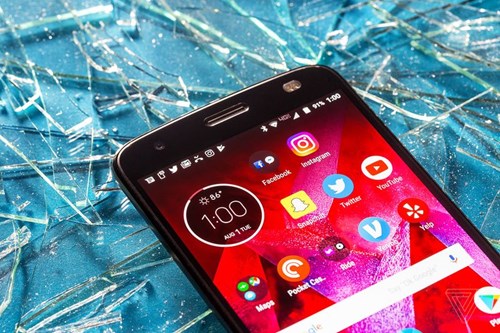 Once you're over the invincible screen and get to using the Moto Z2 Force, it's blazing fast. Inside is Qualcomm's Snapdragon 835 processor, 4 gigs of RAM, 64 gigs of storage, and a microSD slot if you need more space. That's basically the status quo spec sheet for 2017 Android flagships, and it's a strong combination yet again here. And next to the Google Pixel and HTC U11, you're not going to find a faster and more fluid experience.
Source: The Verge